It's not a cliché to say so much is riding on your brakes. It's the truth. The lives and safety of you and your family depend on brakes that effectively stop your vehicle each and every time they are applied. Yet, it's easy to take your brakes for granted.

Ford / Motorcraft parts are designed, engineered and manufactured by the people who designed, engineered and manufactured your Ford car or truck. So it is only fitting that you keep your car maintained with Ford parts and Ford Certified Technicians.
And who better than Harry Blackwell Ford in Malden, Missouri to change out your brake pads, brake shoes, brake rotors, and brake drums when it comes time for their replacement. Our professional, factory-trained technicians can diagnose, repair or replace your brakes before the unthinkable happens, jeopardizing the safety of those you love.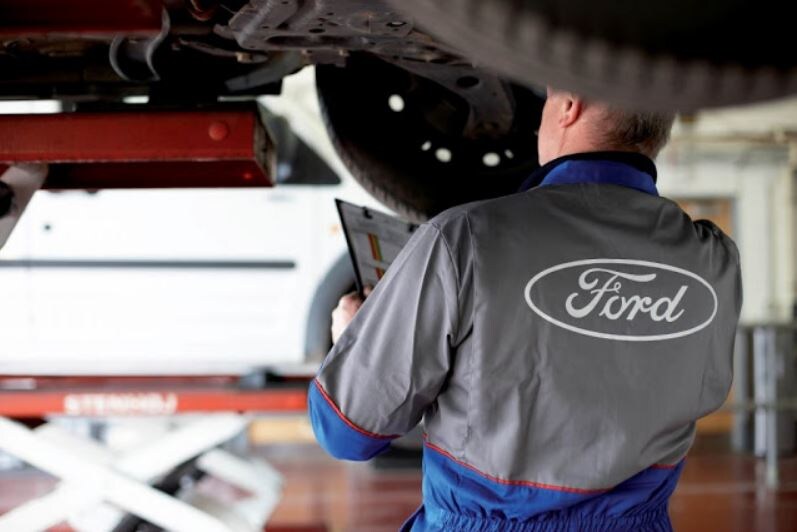 Harry Blackwell Ford Uses Motorcraft Brake Pads and Brake Shoes
All Motorcraft brake pads and brake shoes are designed and tested to meet Ford's high and exacting engineering standards for lining life, noise, dust, and vibration. Brake friction material is tested to ensure top performance, durability and long life.
And all Motorcraft brake shoes and brake pads come with a 2 year, unlimited mileage warranty, including labor costs. So, you can rest assured that you, your family and your Ford are protected by the best Motorcraft has to offer. And, should any issues arise with your brakes within the warranty period, your investment is protected, as well.
Motorcraft Brake Rotors Installed at Harry Blackwell Ford
Motorcraft brake rotors are also covered by the same 2 year, unlimited mileage warranty. And, Motorcraft brake rotors are designed to provide the same high level of braking performance that came with your new Ford car or truck. Each brake rotor is designed specifically for each Ford model and developed to provide optimal braking performance. 
Motorcraft rotors are dynamically mill-balanced to provide vibration-free stops. They also use a special finishing process that effectively produces a uniform braking surface for smoother stopping. And the iron alloy they are constructed from delivers superior heat transfer, vibration absorption, durability, and extended rotor life.
Ford and Motorcraft are as interested in providing the best brake parts that perform the first time, every time to minimize your vehicle's downtime as you are.
Harry Blackwell Ford is just as concerned that your brakes perform flawlessly, too. That's why we offer Motorcraft brake parts backed by Motorcraft's 2 year, unlimited mileage warranty. We want you and your family to be completely safe.
Harry Blackwell Ford Brake Service Allows You to Drive With Confidence
You can be entirely confident that our factory tested technicians will expertly install your Motorcraft brake parts. And we finish your brake service quickly, so you can get back on the road and back to your life.
So, whether you feel your brakes pulsing when coming to a stop, or the wear sensors are warning you that it's time to have your brakes replaced, come to Harry Blackwell Ford in Malden, Missouri for your brake service. Your new Motorcraft brakes will be expertly installed.
And you'll have the peace of mind, knowing that you and your precious family are protected by Ford engineered, Ford backed Motorcraft brakes. 
Hours
Dealership Hours
Mon- Fri
8:00am - 5:30pm
Saturday
8:00am - 3:00pm
Sunday
Closed
Service Center
Mon - Fri
8:00am - 5:30pm
Saturday
8:00am - 5:30pm
Sunday
Closed